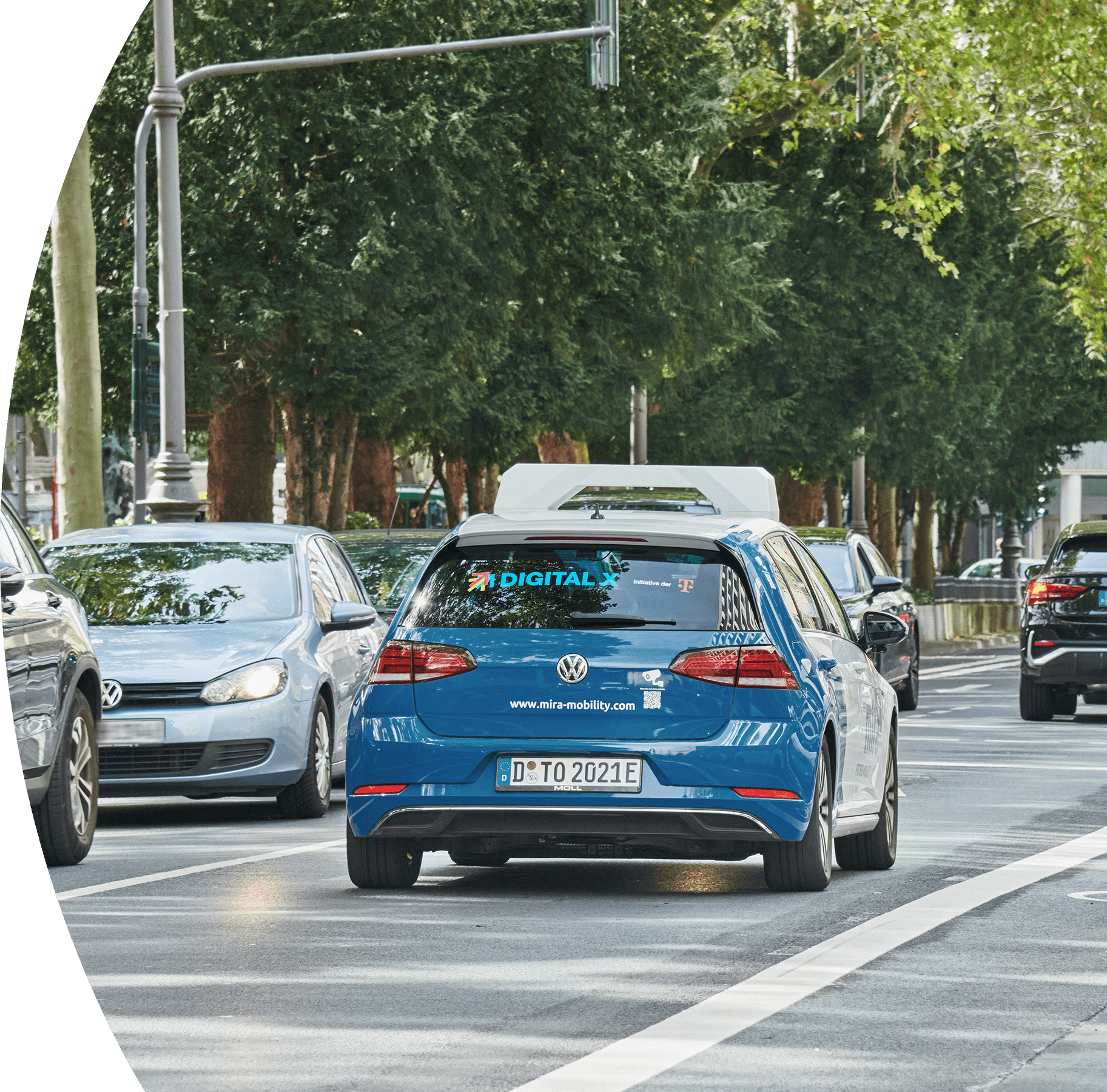 Remote-controlled driving in the city: a major milestone in future mobility.
Through teleoperated driving, we are not only revolutionizing road transport. We are creating new opportunities for more efficient business processes. Find out how we are successfully implementing this pioneering innovation.
Teleoperated driving through rush-hour traffic: MIRA's innovative technology confidently masters the complex requirements of urban road traffic.
Companies that are actively developing cutting-edge advances in mobility today will be the first to benefit tomorrow. But to be among the first movers, these businesses need partners in innovation. MIRA offers companies the chance to turn mobility technology into valuable competitive advantages. With new solutions in the field of teleoperation, MIRA, a recently founded subsidiary of Rheinmetall, provides realistic options for driverless mobility – not in the distant future, but in the here and now, taking into account future regulatory requirements. The start-up's field-tested concept can already handle the complexities of traffic on public roads. With MIRA's solutions for remote-control driving, companies are quickly closing the gap between automated and fully autonomous vehicles.
Mastering the complexity of traffic on public roads without a driver.
An eGolf manoeuvres quickly and safely through busy traffic in downtown Cologne – even though none of the vehicle's occupants are steering. With this impressive demonstration, MIRA proved the effectiveness of its technology at Digital X last September. What makes this possible is teleoperation, that is to say, controlling the vehicle remotely. It assures continuous monitoring of the driving process and the possibility of human intervention to control the vehicle, while at the same time offering the decisive advantage of physically separating the driver and the vehicle.
Mastering the complexity of traffic on public roads without a driver.
MIRA achieves spatial decoupling of driver and vehicle by means of teleoperation. The teleoperator drives the vehicle directly from a remote control console.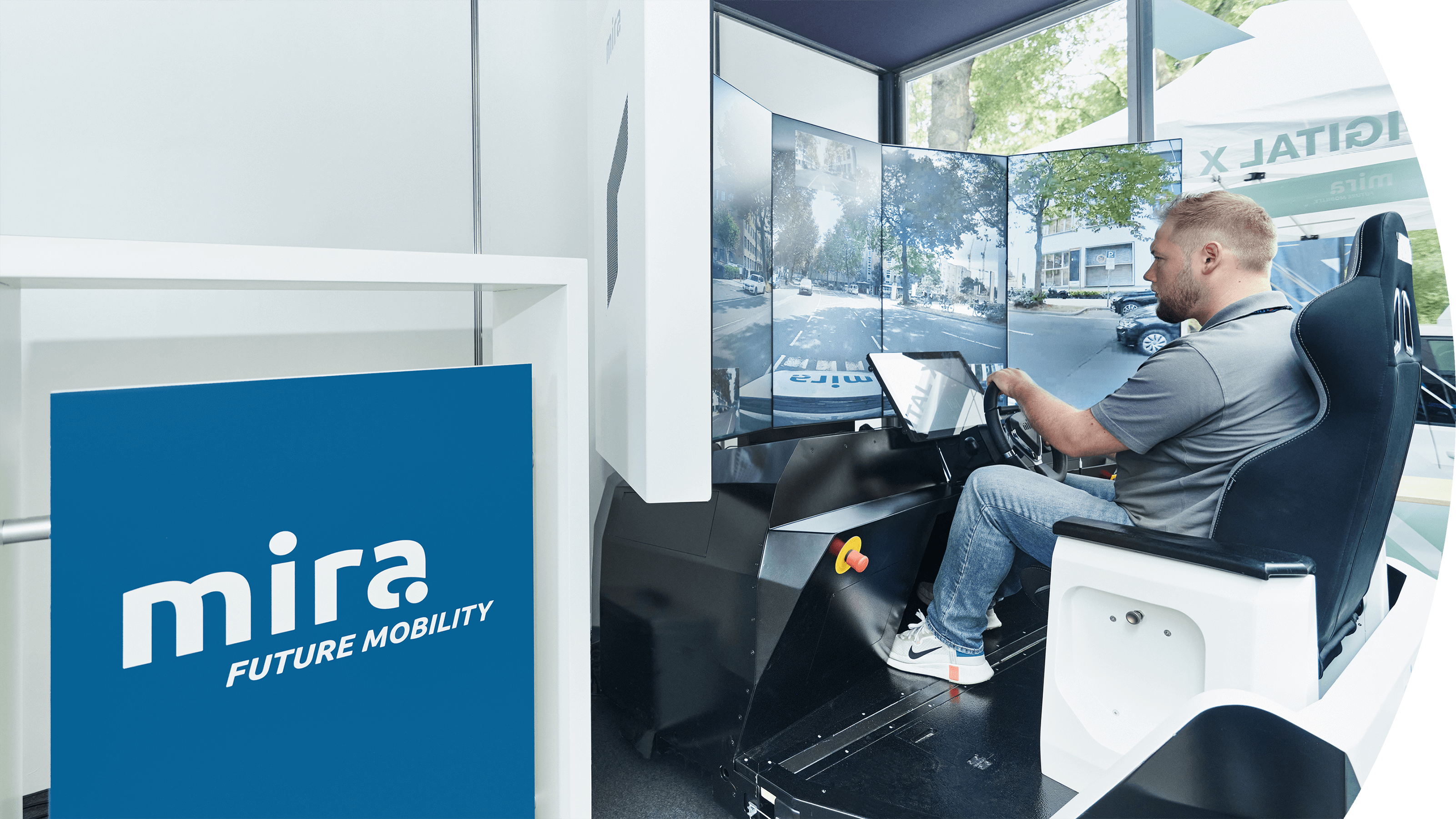 MIRA combines existing, proven automotive and telecommunication technology in a flexible modular solution. Companies can use it to design their own mobility solution, precisely tailored to meet their specific needs. MIRA's remote vehicle control technology kit is suitable for all vehicles, whether they are equipped with autonomous driving technology or not. The design of the teleoperation kit depends on the specific requirements. The unmanned vehicle and the manned driving station, which can be located anywhere, communicate via low-latency mobile networks so that the driver is fully aware of the vehicle's surroundings and can influence all parameters of the driving function in real time.
Key technology for mobility applications in public and industrial spaces
Driverless mobility in traffic on public roads without external orientation infrastructure
Platform-independent architecture, compatible with all vehicles
Complies with legal requirements for the "technical supervision" of automated vehicles
Technology for the first movers of future-oriented mobility.
Many companies are patiently waiting for off-the-shelf mobility solutions to become available at some undetermined date in the distant future. But by the time these solutions are available, their competitive advantage will already be gone. The winners will be the market players that take action today – with an innovative partner like MIRA at their side. MIRA enables logistics and transport companies, as well as public transport providers, to achieve tremendous gains in efficiency and profitability. The same applies to mobility service providers such as car-sharing providers, fleet operators, and operators of critical infrastructure such as airports.
Precisely tailored to suit each company's unique business model.
MIRA's technology enables market participants to proactively master the social, ecological and economic challenges of their industry. Each participant actively shapes the mobility solution to fit its own business model, thus setting itself apart from competitors with highly efficient transport and logistics processes.
Scaling the business model for the entire network of public roads.
The area of application for MIRA technology is by no means limited to private company settings and campus premises. The technology is specially designed for operation in traffic on public roads: MIRA opens the entire field of public transport to driverless mobility, while simultaneously assuring the utmost safety and reliability.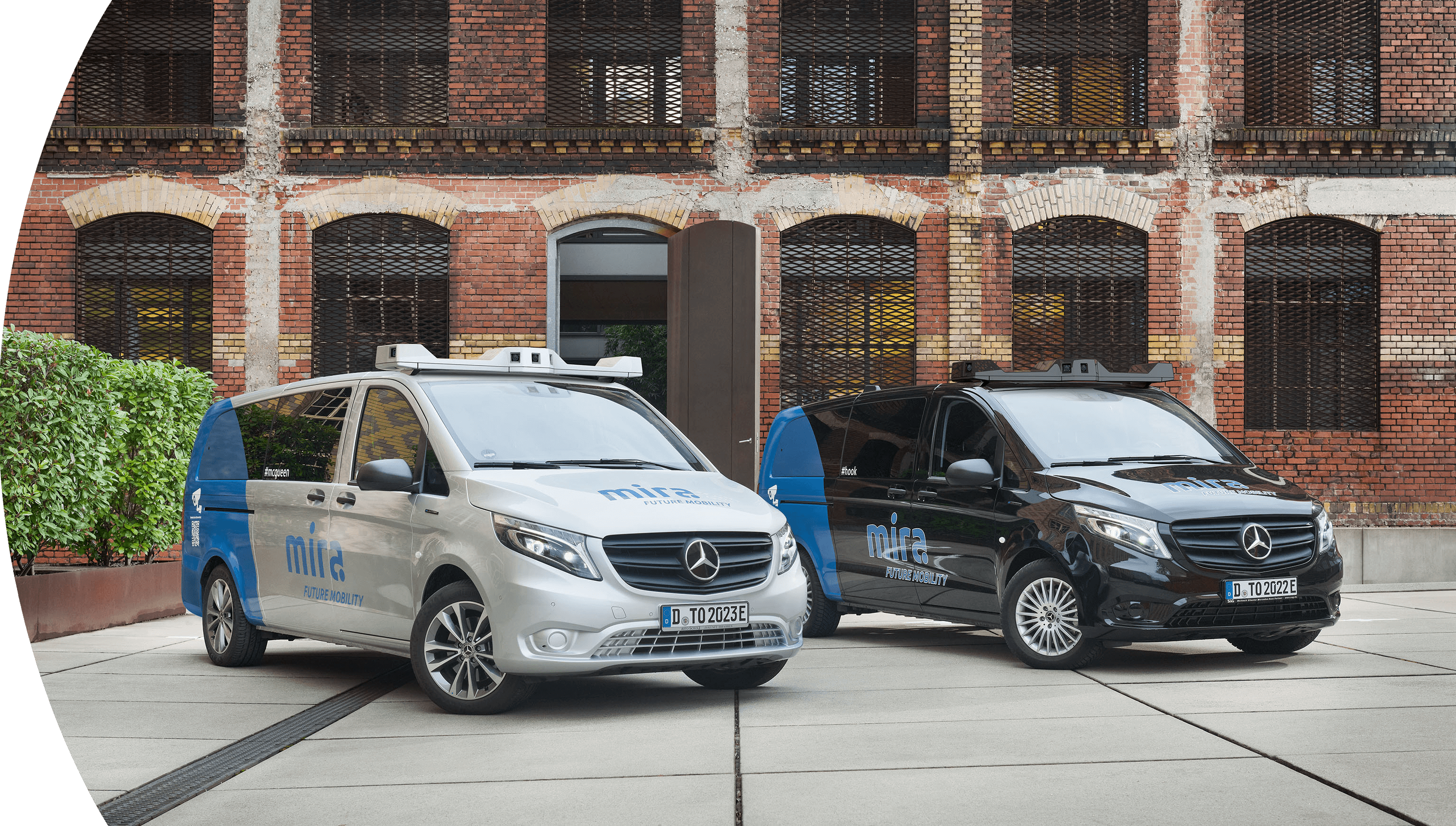 With electrically powered, teleoperated vans, MIRA will soon show how current challenges in logistics and passenger transportation can be solved.
The winners of the mobility revolution will be those who actively shape it today.
MIRA is pushing forward the boundaries of realistic, driverless mobility – with and on behalf of its partners. Second-generation teleoperated MIRA vehicles are already on the road, where they are compellingly demonstrating the excellent performance of people movers and vans equipped with MIRA's technology. Electric vehicles controlled by teleoperators offer a decisive advantage to companies that want to competitively align their logistics and mobility concepts – here and now. MIRA is the right partner for you!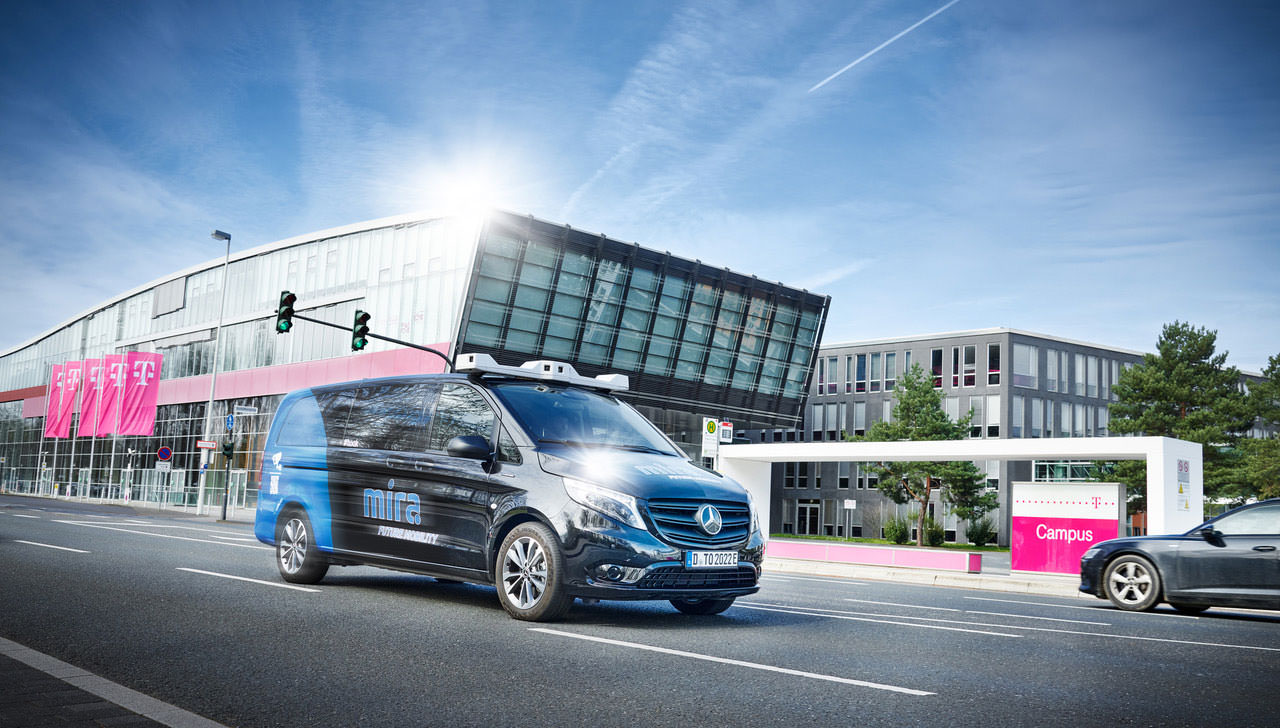 Together with Deutsche Telekom AG, MIRA GmbH has launched a joint pilot project for teleoperated driving. Starting immediately, we will test the use of teleoperated shuttle vehicles between various Telekom locations during ongoing operations.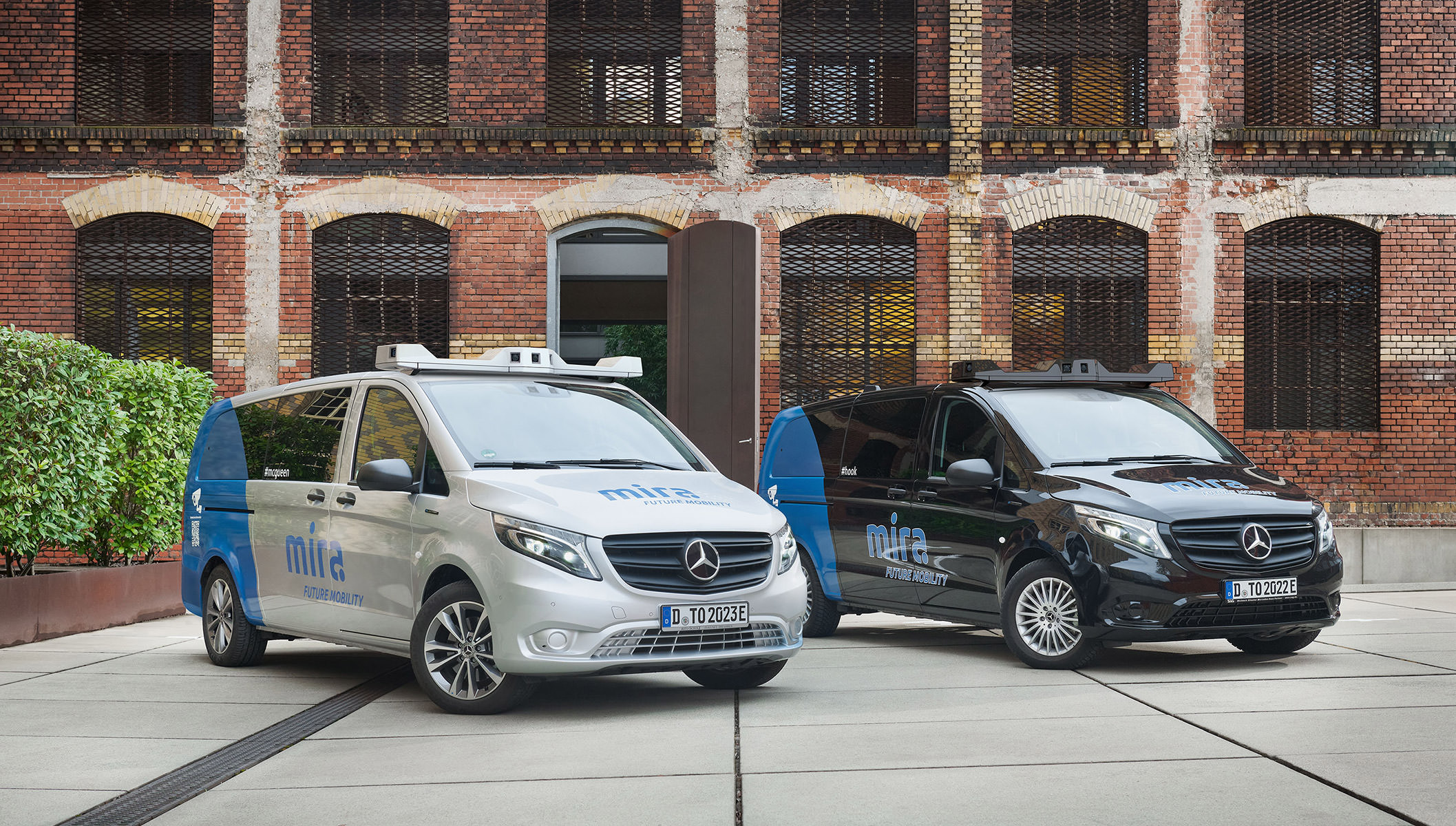 We are very pleased that we have today received the exemption from the district government of Düsseldorf for the teleoperated driving of vans.